Márton Nagy, Minister for Economic Development outlined targeted steps to support the corporate sector threatened by the energy crisis and rising prices at AmCham's Business Forum on September 22.
The manufacturing sector in Hungary, especially SMEs, are highly exposed to rising energy prices, and the energy intensity could further increase several-fold by 2023.
Minister Nagy argued there are four potential solutions to contain the skyrocketing prices, i.e. introducing a comprehensive cost-based electricity pricing mechanism, taxing excess profit in the energy sector, strict regulatory framework to prevent excessive speculation and restore market liquidity, and extending the mandate of monetary policy to moderate inflation and stimulate the economy.
EU member states have different approaches to addressing the issue, says Minister Nagy. The German approach is based on the principle of supporting all sectors equally with large funds, albeit at a significant cost. Some countries opt for a "great reset", letting inefficient sectors go and putting domestic industrial policy on a new basis. Hungary has elected to take targeted, efficient measures within the budgetary constraints.
The Hungarian government's response rests on three key pillars.
The Energy Cost and Investment Endownment Program for Manufacturing SMEs is aimed to primarily support manufacturers on the bottom of the supply chain with energy costs and energy-efficiency investments in order to alleviate liquidity problems, ensure job security and maintain competitiveness.
The Large Enterprises Energy Efficiency Investment Program is developed to support the biggest manufacturers with energy-efficient investments.
The third measure, the Job Protection Program, provides tax reliefs and simplified tax conditions with benign requirements.
Click on the above photo to check out our gallery of the event
Prior to the forum, the AmCham board sat down with Minister Nagy to learn about the work of the ministry and discuss how our organizations can work together.
Click on the picture below to download the presentation of Minister Márton Nagy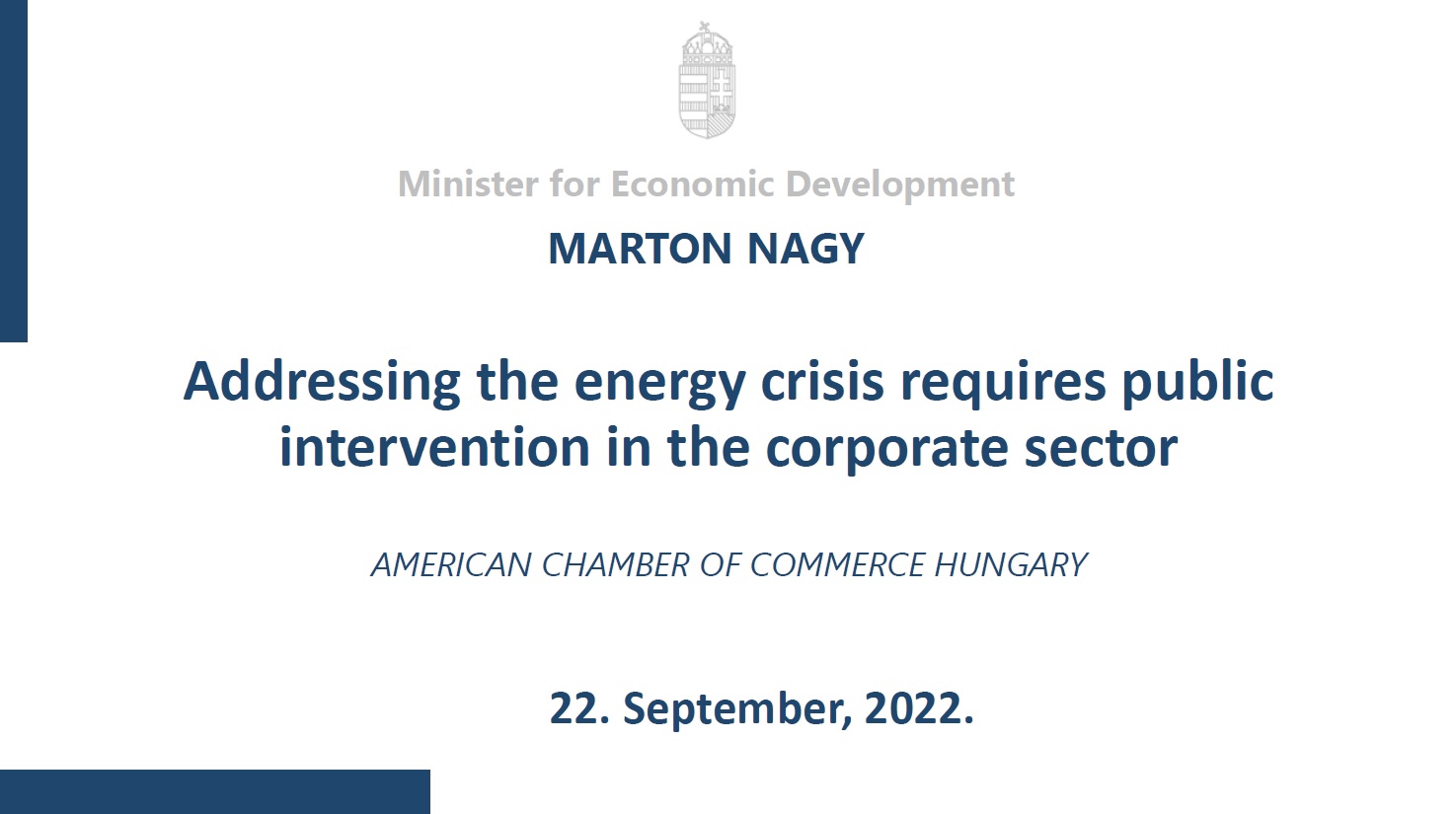 Click here for the Hungarian version.
---
AmCham Hungary would like to thank BT-ROC, Mastercard, and Philip Morris International Hungary for supporting the forum.