AmCham's Healthcare Working Group released 'Cooperation for a Sustainable and Value Based Healthcare', a recommendation package to establish a constructive cooperation with policymakers and advance healthcare reform with the aim to move the sector towards value-based, people-centred and sustainable solutions and services.
With extensive experience in scientific research, innovation and investments, the members of the working group designed the proposals with the intention to help:
create a synergetic cooperation between state and private healthcare
establish a transparent, predictable and stable regulatory environment which is based on the the latest scientific knowledge and international best practices
advance the digitalization of the sector
position health, a pillar of national competitiveness, as a investment priority,
and above all, prioritizite the improvement of the health of the population as a matter of strategic interest.
"Value-based healthcare is about delivering real value for patients, improving their wellbeing, and enabling them to be an active member of society. Implementing a value-based healthcare system demands extensive collaboration between all stakeholders. Representing various sectors of the life science industry, the AmCham Healthcare Working Group is well positioned to support the Government's healthcare reform towards affordable, sustainable and innovative health systems"- said Etelka Dobi, Patient Engagement and Government Affairs Lead at JANSSEN-CILAG, leader of the Healthcare Working Group upon release.
The recommendation package follows a joint letter sent by AmCham Hungary, the German-Hungarian Chamber of Industry and Commerce, the Joint Venture Association, the Swedish Chamber of Commerce and Swisscham on November 9, asking the government to open a forum for regular consultations regarding the healthcare reform. With the support of the above business organizations, the proposals were sent to government stakeholders this week.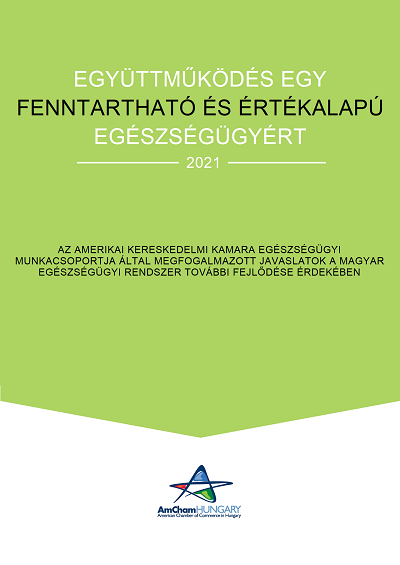 (available only in Hungarian)