On May 12, AmCham's EU Green Deal working group held its second plenary meeting focusing on circular economy and the latest technologies in recycling with keynote speakers Attila Steiner, State Secretary for the Development of the Circular Economy, Energy and Climate Policy, Ministry for Innovation and Technology and David Fitzsimmons, Director of the European Remanufacturing Council.
State Secretary Steiner gave an overview of the Hungarian Government's current policies and future plans regarding circular economy within the European Green Deal's framework. After calling for strong coordination on European, national, regional level as well as corporate level, he pointed out that we need to begin with a shift in the behavior and mindset of society, corporations and government included, to reduce waste and focus more on waste reduction, reuse and recycling.
In order to facilitate this goal, the government plans to introduce a new deposit and collection system by mid-2023 and eliminate the use of a  single use plastic products. According to the Waste Law accepted in February 2021, a concession model will be introduced for communal waste – to be used as a secondary raw material. It will cover the selection and collection (not recycling) sector for selected waste streams, mostly communal. It will improve the quality of secondary raw material, beneficial for the recycling industry. There will be also stricter sanctions to eliminate illegal waste in Hungary by a new authority to supervise such activities.
State Secretary Steiner also highlighted the need for infrastructure development to enable the implementation of policies, largely covered by the G-component (transition to circular economy) of the Hungarian National Recovery and Resilience Plan.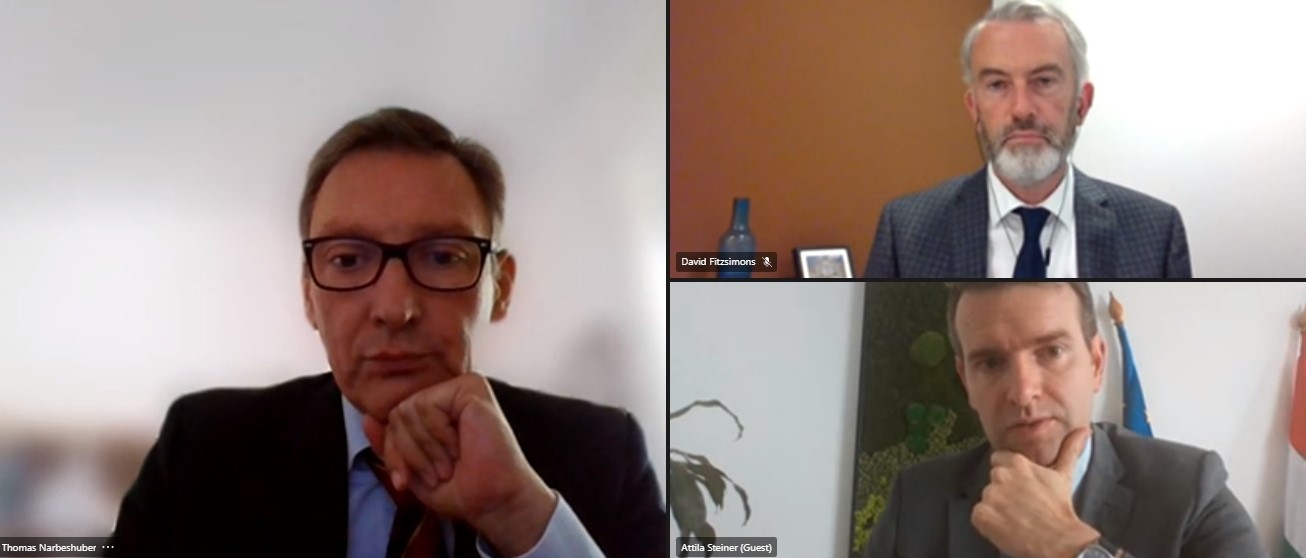 David Fitzsimons presented the European viewpoint and opportunities in remanufacturing, a €30 billion business in the continent, predominantly in aviation, automotive components, agricultural equipment, defense equipment, IT, imaging equipment, construction equipment, electrical and electronic products or mobility.
Fitzsimmons says the loss of value in products after their sale to a customer is seen as a deep source of investment opportunity in the circular economy.
Digitalization also plays an essential role to advance remanufacturing as digital technologies will lead to the development of new business models and business opportunities in next 10 years. These technologies are already being applied to used products, but the solutions can and should be further harvested: merging traditional industry of remanufacturing with industry IR4 technologies is only the start.
Following the keynote presentations and a live Q&A session, five companies from diverse sectors shared their corporate best practices in regards to waste elimination, innovative packaging, renewable energy and the transition to circular business models.
After highlighting the pressing problem of the endless amount of waste coming from products and packaging, Béla Domokos, CIO of TerraCycle talked about the idea of eliminating the concept of waste through new initiatives and methods of recycling waste. There are oingoing incentive schemes which encourage people to turn old or useless products, such as kid car seats or even diapers and cigarette butts which then will be repurposed. The next step of waste elimination; however, is refillable or reusable durable packaging, which used to be the norm some decades ago, with the use of new materials and products. TerraCycle's goal is to redesign products to enter into a circular, reuse platform, without compromising the design of the product, making sustainability more accessible and completely eliminating the idea of waste - driven by their recently launched Loop platform.
Péter Mucska from Coca-Cola HBC presented evolution of beverage packaging and innovative ways to move towards recyclable options.  Beside the 30% plant based, 100% recyclable plastic bottles and marine plastic based solutions, Coca-Cola will introduce the 100% recyclable paper bottles to the world in Hungary.
GE Renewable's Budapest Site Leader Péter Gurcsó talked abouot GE's 2030 Carbon Neutral Commitment and presented a compelling method for wind turbine blade recycling. A sustainable disposal for wind turbine blades has been a challenge, and after years of research today 85-90% of GE's blades can be turned into repurposed material for cement production and other reusable materials. For the decade ahead, GE is targeting the majority of its progress toward the 2030 goal with absolute reductions of direct emission and energy use achieved through operational investments, smart power sourcing and eliminating energy waste, as well as investing in new technology and products that would help customers meet their decarbonization goals.
Ewen Chesnel, Senior Manager Industry Affairs - EU Government Relations at BASF talked about expanding the mix of solutions for a Circular Economy, such as chemical recycling (learn more)
"While the EU has made progress to significantly reduce plastic leaks in the environment, now has come the time to reduce other linear models such as landfilling and incineration. A whole mix of solutions is needed, and chemical recycling is one of them. Chemical recycling allows to break down plastic waste into basic molecules that chemical companies can use again instead of fossil resources to create new products. Therefore, the technology can target new waste feedstocks that are currently incinerated or landfilled like multi-layer plastics or scrap tires. For example, BASF partnered with the Hungarian company New Energy who transforms tires into a pyrolysis oil in its plant in Budapest. To reach maturity and bring a significant contribution, a supportive legislative framework will be needed to accept chemical recycling in the recycling targets and to support chemically recycled materials on the market." - Chesnel explained.
Finally, KMPG's CEE Service line leader of Sustainability Services, István Szabó talked about managing circularity through CTI 2.0 measurement developed together with the World Business Council for Sustainable Development (WBCSD), by presenting an international case study. The methodology measures circular material inflow and outflow optimizing the monetizing the loops and assisting in decoupling financial development from traditional linear material usage.
We would like to thank Péter Csucska, Managing Director of Lexmark and Board member of AmCham for opening the event and Thomas Narbeshuber, Managing Director of BASF Hungary and Lead of the AmCham European Green Deal Working Group for moderating the event.