The Hungarian Investment Promotion Agency (HIPA), in partnership with AmCham's BSS Hungary project has organized an online event and award ceremony for the sixth time. This year again, a comprehensive survey with the participation of 67 companies was conducted among the business service centers (BSCs), whose results were the focal point of the online presentations. This year the prestigious awards handed over at the event were granted to ExxonMobil, Eve Bader, general manager of Roche Services (Europe) and NI Hungary.
The event was opened by Péter Szijjártó, Minister for Foreign Affairs and Trade with reassuring notes regarding the current state of the economy, the protective measure that has been taken so far and announced that a new investment incentive scheme and a training subsidy opened for large enterprises, including companies operating in the Business Services Sector. 
"Currently there are 131 business service centers in Hungary, they provide jobs for 63,892 people, and this number has increased by 40% during the last three years. It makes us happy that these business centers have been increasing and enhancing their level of added value [...] These companies demand a highly qualified workforce and through the investments of these companies Hungary became a leading country in the Central European region when it comes to a destination for Share Service Centers. This sector play a key role in keeping talented young Hungarian people, with considerable salaries rapid promotion opportunities and the daily use of foreign languages."  - highlighted the Minister.
After AmCham CEO Írisz Lippai-Nagy and HIPA CEO Róbert Ésik in their welcome remarks emphasized the importance of cooperation, especially in these challenging times. 
"If you want to go fast, go alone. If you want to go far, go together. Cooperation. It can be the motto of this year's BSC conference, and for me this is the key word for 2020 itself." - said Írisz Lippai-Nagy.
The main results of the survey were introduced by Mr. Ésik and a summary video was presented (see below). 
At the second part of the online conference, the future of BSCs were discussed by assessing the opportunities, trends and tendencies of the sector in Hungary.
 First Attila Bognár, McKinsey & Company Partner introduced this year's global trends and regional responses to the pandemic.
Following him, Randstad Managing Director Sándor Baja and Operations Manager Petra Polgár elaborated on the "new normal" in HR trends and winning strategies. 
The COVID-19 pandemic has transformed the world and affected all industries. In contrast with this, the BSC sector has remained stable and is performing well in these challenging times. BSC executives were forced to make quick decisions and since the biggest step was almost all jobs being moved to home-office and all activities managed from home, managers at every level were forced to rethink the way they work.
New opportunities also arise from the pandemic situation as companies move towards a hybrid operational model combining on-site and remote working, allowing more talent recruitment from Hungary's regional university cities. More and more BSCs have realized the importance of co-operation with educational institutions: ties are especially close with higher education institutions in order to prepare graduates to meet the competence requirements of BSCs, as fulfilling the ever-growing demands of new talent and retaining employees are fundamental for centers. Moreover, industry specific education programs and promising new initiatives have been launched to raise the awareness and attractiveness of the sector for young people. This inspires a new focus on employer branding, smart recruitment processes, and employee value proposition (EVP).
Finally, CBRE's Research Director reflected on the opportunities in the office market during these turbulent times. 
It can be seen that the business service sector has rethought office space, and it is anticipated that the new balance between remote working and office-based work will be different to pre-COVID times. These factors will also have an impact on the future of cities and property: these tendencies imply changes in the residential market as homes must accommodate workspace and connected infrastructure but do not necessarily need to be in central locations or well connected. The distance between the workplace and homes could increase and the market could become more decentralized and give deurbanization a new push after years of urban growth.
AWARD CEREMONY
We are proud that this year, three AmCham members were recognized for their extraordinary work and incentives, based on the survey results and an independent jury: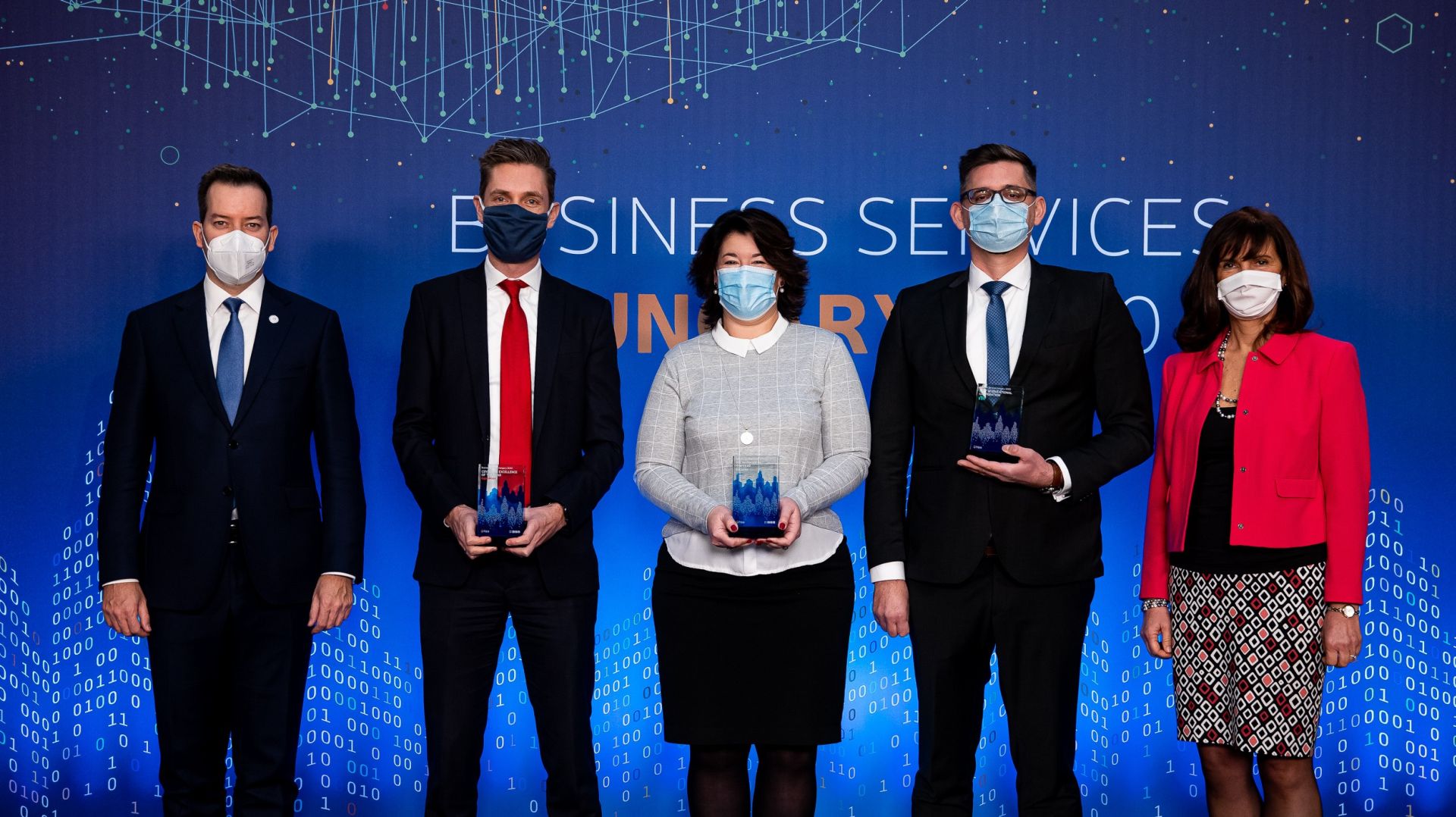 CENTER OF EXCELLENCE OF THE YEAR: ExxonMobil
Based on the Business Services Survey 2020, last year's results, and the complexity of its operations, ExxonMobil is awarded as the center of excellence of the year. The company expanded its service portfolio, initiated various new high value added functions and it has contributed to the continuous development of the BSC sector in Hungary.
BSC MANAGER OF THE YEAR: Eve Bader, Roche
The BSC Manager of the Year title is awarded to executives, who demonstrate professional excellence in their skills, exhibit ethical behavior towards employees, and who, in their activities promote cooperation between sector players while proactively contributing to the Sector's future development. Roche Services (Europe) Kft's achievements during recent years have been outstanding and the company has contributed to the expansion of employment in the country. Eve Bader, general manager of Roche Services (Europe) Kft has demonstrated passionate and innovative leadership that has inevitably resulted in more high added-value activities and the extension of the service portfolio with various new functions in Hungary.
BEST IN EDUCATIONAL COOPERATION: NI Hungary
NI Hungary places special emphasis on education in Hungary. The company has made significant efforts to facilitate cooperation between the BSC sector and the educational institutions in Hungary. NI Hungary has a long-established and constantly expanding collaboration with higher educational institutions and secondary schools including scholarship programs, training programs for business competences and business language skills.
THE SURVEY RESULTS
The Hungarian Business Services Sector has become one of the leading international hubs for business services within the Central and Eastern European region. It has reached a high level of maturity and complexity, while maintaining the ability to engage and retain talents and to continuously attract new investment.
In summary, Hungary's business services sector has been able to maintain its competitive edge due to the fact that the country continuously provides a highly skilled workforce, high-standard offices and IT infrastructure, as well as a supportive and stable business environment coupled with excellent quality of life.
You can access HIPA's Business Services Hungary 2020 survey by clicking here.