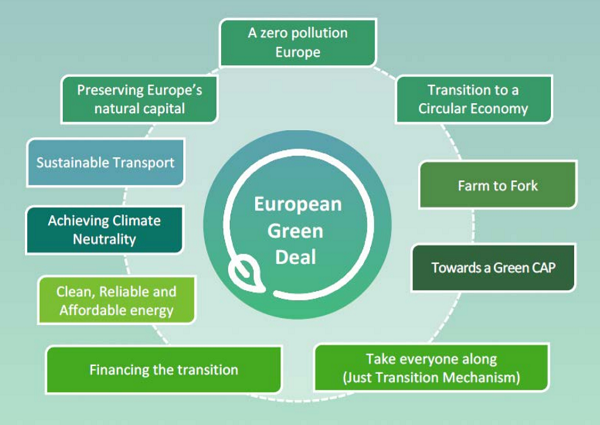 In line with our efforts to put sustainability on the forefront of our advocacy work and our nation's economic policy, outlined in the Policy Agenda 2021-2025, we are launching the European Green Deal Working Group to help our members get a better understanding of the policy initiative and the related EU and Hungarian legistlation and financing under the leadership of Thomas Narbeshuber, General Manager of BASF Hungary.
"The European Green Deal will change the way we work, the way we live and the way we travel. Therefore I encourage us all to familiarize with the upcoming changes and contribute to a sustainable future with innovative solutions" - said Narbeshuber.
The WG will invite governmental and corporate experts from Hungary and the EU to the discussion to share key information and best practices, while members also have a platform to form statements and recommendations to drive progress in an area that is critical to the country's long-term competitiveness.
The first plenary meeting of the working group will be held on April 16 with the following agenda:
Policy update with Attila Steiner, Secretary of State for the Development of the Circular Economy, Energy and Climate Policy, Ministry for Innovation and Technology
20 min keynote presentation on the Hungarian gov't plans re. EU Green Deal
15 min Q&A
Best practice session I.: Clean Energy
EU Overview / keynote: Shradha Abt, Deputy Head of Office, EU Government Relations, BASF
10 min presentation
15 min Q&A
Corporate Best practices (5-6 min each)
To register to the event or the WG, please send an email to zsofia.juhasz [at] amcham.hu.
*  The European Green Deal is the ambitious EU climate strategy that aims for Europe to become the first climate neutral continent by 2050. It focuses on topics such as clean energy, circular economy, sustainable mobility, elimination of pollution and sustainable agriculture.