AmCham's HR Academy returns to address the most pressing issues HR leaders face today and showcase best practices and tools from industry leaders to help prepare the foundation of your post-pandemic success.
COVID-19 caused an unprecedented global disruption, forcing businesses in all sectors to adopt new models, technologies, ways of working, and leadership methods. HR is no different. In these trying times, business leaders and HR departments all over the world are tackling new challenges in remote work, employee engagement, communication, productivity, mental health as well as talent retention and development. All major survey results show that these issues are most directly impacted by immediate managers. Simply put, we need better leaders and managers.
Join the interactive five-part live event series where experts exchange best practices in recruitment, performance and talent management, development and training, motivation, employee experience, and more!
Session I.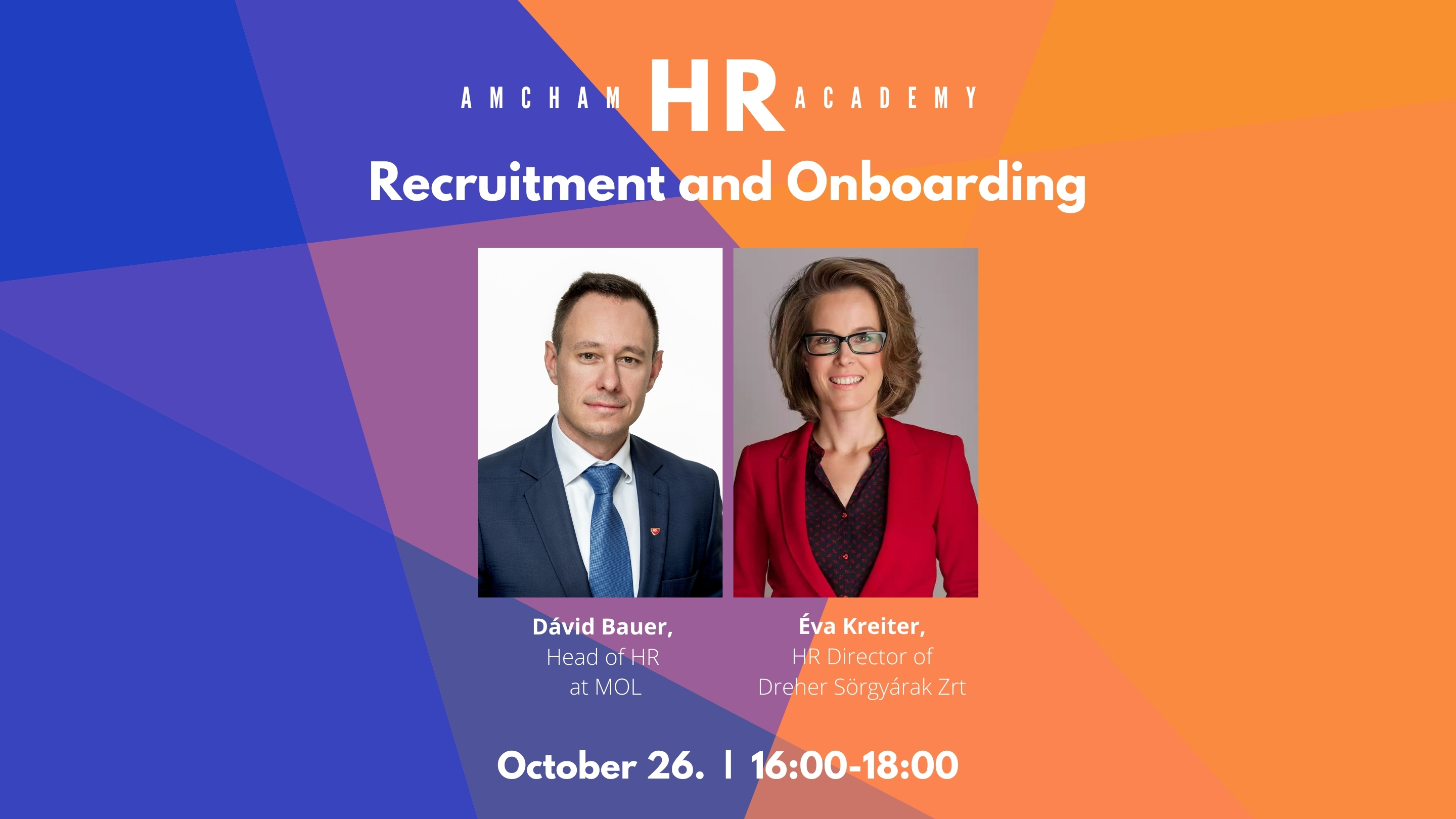 Moderator: András Marcio Kovács, Key Account Team Leader of Profession
PROGRAM:
October 26. (Tuesday), 16:00-18:00: Session I. - Recruitment and Onboarding with
Dávid Bauer, Head of HR at MOL
Éva Kreiter, HR Director of

Dreher Sörgyárak Zrt
Moderated by András Marcio Kovács, Key Account Team Leader of Profession
---
November 2. (Tuesday), 16:00-18.00: Session II. - Performance and Talent Management with
Zsuzsa Friedl, Chief People Officer at Telekom
András Hajnal coach, trainer and Olympic diver
Moderated by Vilmos Benkő, entrepreneur, founder of SPEAK Academy & owner of Rózsa Medical Center
---
November 11. (Thursday), 16:30-18.30: Session III. - Development, Upskilling, Mentoring with
Zsuzsanna Emri, HR Director at KPMG
Tamás Zemlényi, Division HR Leader at UPS Hungary
Moderated by Judit Forgács, CEO & Managing Director of ForgXpert
---
November 19. (Friday), 16:00-18.00: Session IV. - Managing Diverse Teams with
Balázs Fremda, Head of HR at Morgan Stanley
István Lenk, Managing Director of Eaton Hungary
Moderated by Dr. Andrea Juhos, Managing Partner at Lee Hecht Harrison Hungary
---
November 30. (Tuesday). 16:00-18.00: Session V. - Motivation and Employee Experience with
László Szőcs, HR Director for GBS Europe & HR Business Partner for GBS at BP
Zsuzsanna R. Tóth, Human Resources Director of Vodafone Hungary

(Invited)

Moderated by Dr. Róbert Dobay, Co-founder and CEO of Act2Manage and Menedzsmentor; Chair of AmCham's HR Committee
REGISTRATION:
To guarantee your seat for the entire five-part series, register now via email to Zsófia Juhász (zsofia.juhasz [at] amcham.hu) for 40000 HUF + VAT. The deadline for registration is October 22, 14:00.
Registrations will be confirmed on a first-come, first-served basis. Please note that capacity is limited and the event is open for non-members as well.
Please note that with your ticket, you have the option to delegate different colleagues for the individual sessions.
Sponsors
1051 Budapest, Szent István tér 11.
Member Participation Fee
40.000 HUF + VAT