You are cordially invited to our first personal event after the summer break:
Business Forum
with
Szabolcs Takács, Hungarian Ambassador to the U.S.
and
Marc Dillard, Chargé d'Affairs a.i., U.S. Embassy in Hungary
Date: August 30, 2021 (Monday)
Time: 12:30-14:30 (Registration starts at 12:00)
Location: to be confirmed
Schedule:
Welcome notes by Zoltán Szabó, President, AmCham
Keynote speeches by His Excellency Takács Szabolcs and Marc Dillard, Chargé d'Affaires a.i.
Luncheon
Discussion with His Excellency Takács Szabolcs and Marc Dillard, Chargé d'Affaires a.i., moderated by Dávid Kőhegyi, Local Partner, Head of Compliance and Investigations, DLA Piper; Second Vice President, AmCham
The event will be held in English without translation.

Participation fee:
AmCham members: HUF 18,000 + VAT/person
Non-members: HUF 25,000 + VAT/person
Registrations are accepted on a first-come, first-served basis. Written cancellations made by August 25 receive a full refund. Late cancellations or no-shows will be charged.

COVID-19 Precautions:

According to effective regulations, attendees must present at the meeting location upon arrival:
A picture ID
A certificate of immunity against SARS-CoV-2 (Card OR App OR printed certificate of vaccination with the doctor's stamp)
Speakers
H.E. Szabolcs Takács, Hungarian Ambassador to the U.S.
Szabolcs Takács received a BA in English Language and Literature and an MA in Political Science from the University of Pécs. He pursued his studies in Law and International Relations and soon became a desk officer at the Department of Asia-Pacific at the Ministry of Foreign Affairs. Between 2005–2009 he was Deputy Head of Mission at the Embassy of Hungary in Doha, Qatar. He also worked at the Office of the Deputy State Secretary in charge of bilateral relations with non-European countries and International Development Cooperation. He served as Deputy State Secretary for Security Policy from 2013 to 2014. Between 2014 and 2018 he worked as State Secretary responsible for EU Affairs, in 2018 he was appointed Minister of State for EU Policies and Coordination.
In 2019, he became the Ministerial Commissioner for Brexit affairs at the Hungarian Prime Minister's Office in Budapest. He is also the author of two books, Asian Studies 2011 and Europe and Asia in the Globalizing World; both published in 2011.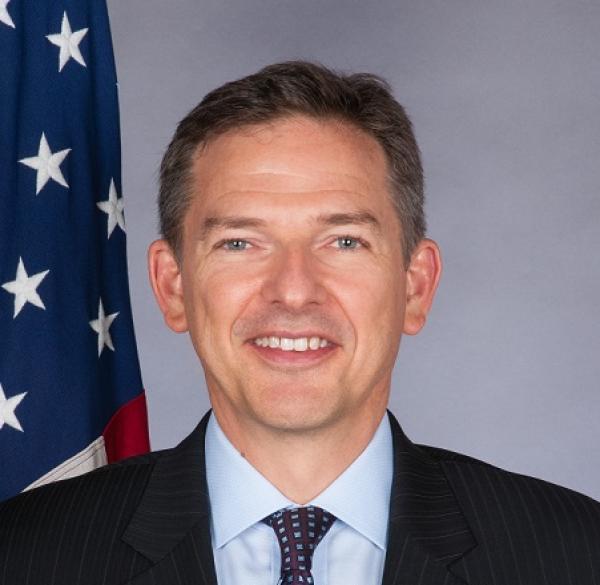 Marc Dillard, Chargé d'Affaires ad interim, U.S. Embassy, Budapest
A member of the Senior Foreign Service, Marc Dillard has served as Deputy Chief of Mission at the U.S. Embassy in Budapest since August 2019. Mr. Dillard has had a variety of postings in Washington and overseas since joining the State Department in 1998. Most recently, he was the Director of the Office of Economic Policy Analysis and Public Diplomacy in the Bureau of Economic and Business Affairs, where his team worked on strategic planning, communications, and policy issues related to the Organization for Economic Cooperation and Development. Prior to that, Mr. Dillard was Counselor for Political and Economic Affairs at the U.S. Embassy in Sofia, Bulgaria. His other postings include Japan, Korea, Malawi, and the Democratic Republic of the Congo, as well as service as a Watch Officer/Senior Watch Officer in the State Department's Operations Center. Mr. Dillard received a bachelor's degree in history from Duke University and a Ph.D. in political economy and public policy from the University of Southern California. He has worked as a consultant in the private sector, taught economics at the university level, and is the recipient of multiple State Department Superior and Meritorious Honor Awards. His wife, Julia Dillard, is also a Foreign Service Officer. They have two children.
Sponsors
Location
To be confirmed.
Member Participation Fee
18.000 HUF + VAT
Non-Member Participation Fee
25.000 HUF + VAT