The American Chamber of Commerce in Hungary is one of the most influential and trusted business organizations in the country, representing local and international business interests since 1989.
We are a member-funded, politically independent platform consisting of over 300 companies from a wide variety of sectors who share a firm commitment to Hungary: we want to help make our country more competitive in the region and on the global stage.
VISION-MISSION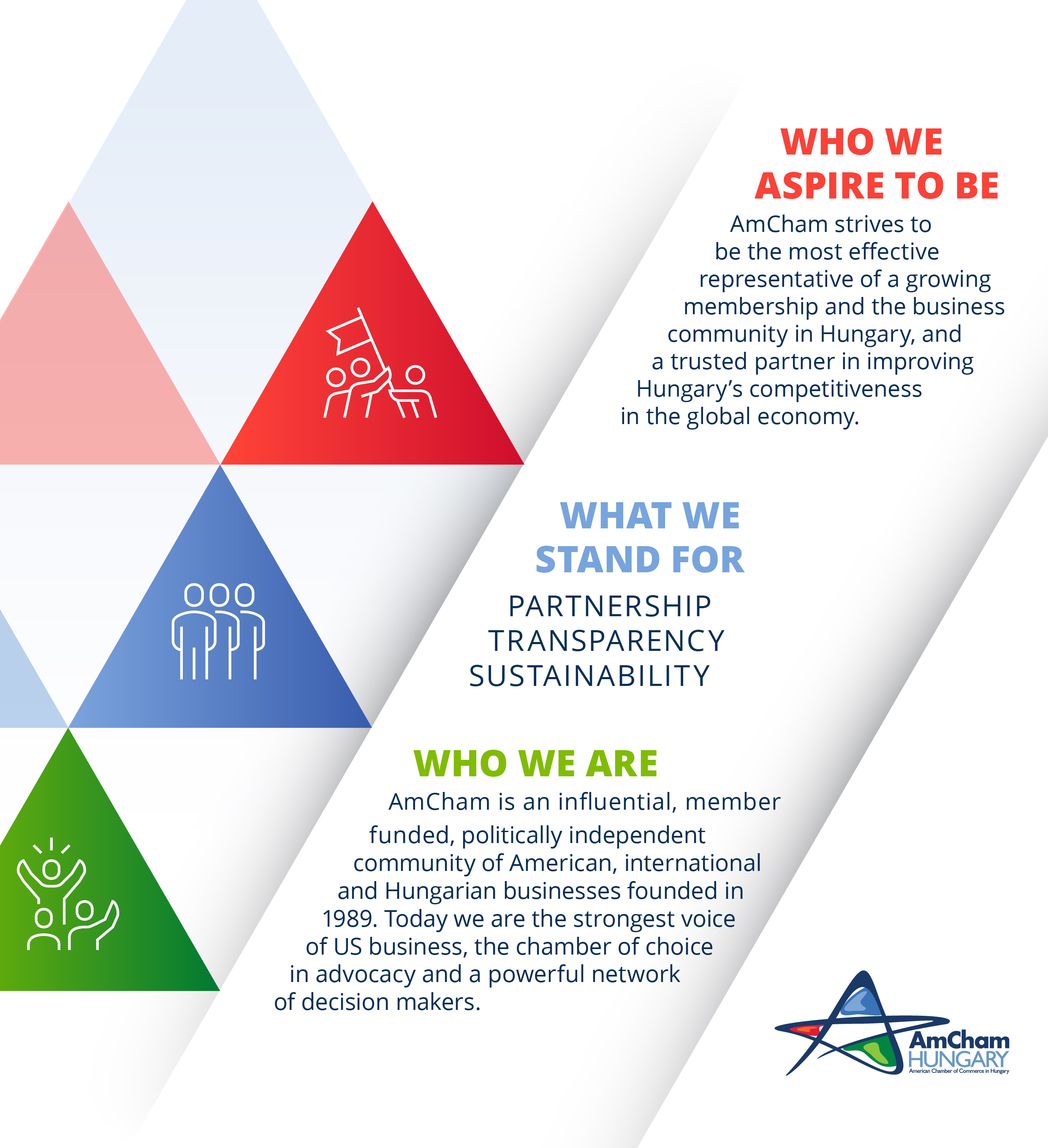 ADVOCACY
As a strong voice of the business community, we build the bridge between the decision-makers and stakeholders of the private and public sectors in order to help forge a healthy and thriving business environment where companies become more productive, more effective, and ultimately, more successful.
We believe that a business-friendly regulatory environment, a predictable and transparent tax system, a flexible and highly skilled workforce are essential to a modern, competitive, and growing economy.
At AmCham Hungary, members have an opportunity to define, discuss, and resolve issues of common interest. Our advocacy efforts are outlined in the Policy Agenda and our proposals are collected every year in the Cooperation for a More Competitive Hungary recommendation package.

NETWORK
AmCham is a hub for people who want to build long-lasting partnerships and make a difference in the community. We want to help people connect by providing a platform that offers unique programs, opportunities for cooperation and a wide range of professional and social events.

KNOWLEDGE
Our community is based on the ideas of partnership, cooperation, and the free exchange of information and best practices. We aim to bring together the best minds in the business community to drive change, achieve progress, and learn from each other.
Learn more about us and our work!
Advocacy - Striving to improve the competitiveness of Hungary
The Membership - A strong and diverse community from a wide variety of sectors
Our Events - Explore our professional and networking events
News - The latest information about the chamber.