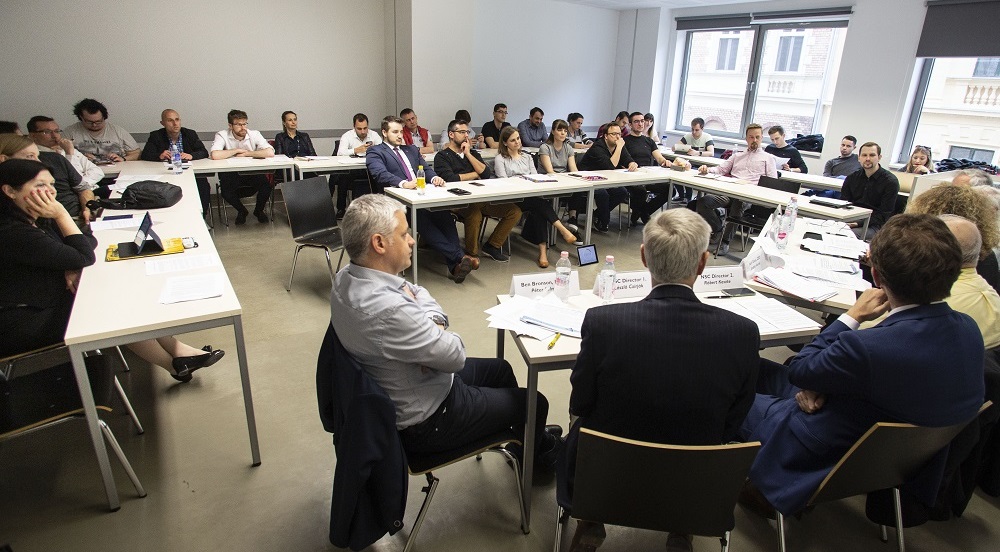 The Board Simulation program, driven by our Governance & Transparency Committee, serves as an important pillar of engagement between AmCham and academia. Our simulation cases provide insight into corporate governance by presenting challenging scenarios where the board of directors must decide on a strategy while considering various factors such as family tension, competing interests, etc.
These cases were created at the request of Hungarian professors who lacked real-life case study teaching tools. The Board Simulation Program visited six Hungarian universities (ELTE, Corvinus, CEU, BME, BGE, University of Pécs), Comenius University in Bratislava, and the University of Vienna, reaching over 2700 students.
Since the COVID-19 pandemic, the committee held two successful online board simulations with Corvinus University of Budapest and the Central European University.
CASES
ABC Nyrt.
The fictional ABC Nyrt. is a publicly held Hungarian company, one of top producers and distributors of bio-fuel in Hungary. During the last 12 months the Board has discussed a number of strategic moves to improve ABC's market position. New green-field investment opportunities and acquisition targets were on the table. One of the potential expansion options would involve the acquisition of Go Green, a privately held company, in the fictional country of Felixia, one of the pioneers of the new second generation bio-fuel technology. The acquisition could capitalize on a potential tax benefit that Felixia might grant to first distributors of bio-fuel products in Felixia and the tax break would have a very positive impact on ABC's cash flow. However, there is a potential conflict of interest surrounding ABC's CEO and his wife who is employed by Go Green, and a whistleblower report was compiled on Go Green's investment advisor and a law firm he hired to help with the transaction, which has ties to the Minister of Economy of Felixia. The board is facing a tough discussion.
Solid Glass Kft.
This case focuses on a fictional Hungarian family-run limited liability company, formed in 2008 by three successful researchers: Sam Glass, his brother, Greg Glass, and Sara, Sam's wife. The company specializes in developing, producing, and marketing new materials for glass products. To finance research and commercial launch of their two latest products, the Glass family turned to New Stuff Capital (NSC), a specialized private equity fund that focused on investing in "new materials." In the last couple of years; however, the company underperformed, due to a sluggish market, the impact of COVID-19, product issues, failed acquisitions, and ineffective marketing campaigns, causing Solid Glass to fall behind its competitors, prompting serious questions from the main investor, NSC and putting the CEO on the hot seat. Will NSC try to make the business work or exit the company? What is next for Solid Glass?
---
The committee is working on developing further Board Simulation cases with additional scenarios that would prove interesting from Corporate Governance and other standpoints.