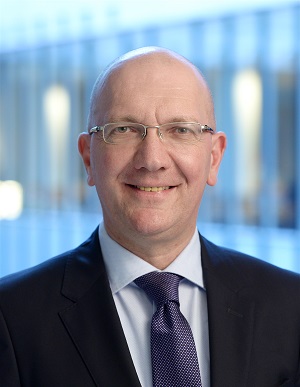 Name: Róbert BENCZE
Company: PwC Magyarország
Position: People & Organisation Consulting Director
AmCham Membership Category: Patron
CANDIDATE BIO
Experienced professional in the People and Leadership consulting world as practicing leader and C-suite consultant. People Analytics, HR Transformation, HR Strategy, Leadership transformation.
SKILLS
Global Market Developer, Strategy Creator & Executor, Profit-generating Group Manager, Technology-focused Innovator, Passionate People Leader, Engaging Keynote Speaker
PROFESSIONAL EXPERIENCE
PwC Hungary & CEE - Director, People & Organisation (2013-Present)
Generated 40% revenue growth in 4 years. Increased the revenue from 1,8 mio USD to 3 mio USD with maintaining the margin ratio

(%).

Implemented 3-4 innovations yearly

and aligned successfully the main business streams of the People & Organisation group (HR

consulting, Personal-related tax consulting and Immigration services). Established a solid and growing HR consulting practice aligned

with all other services.

Developed and implemented a people-analytics tool based on preference analytics. Sucessfully generated client business from the

application in CEE, and in the Middle-East.

Provides recurring services to a well established client base with satisfied clients like Audi, BOSCH, British Telecom, Continental,

Deutsche Telekom in Hungary, OTP Group - in the area of People Analytics, HR Transformation and Corporate Culture.

Launched the most robust youth preference survey in Europe piloted in Hungary (more than 40,000 respondents) and now extended

to Europe and the Middle-East. The database is unique in itself to help companies to adapt their external EVP to real evidence-based

needs.

Became the face of PwC Hungary in many internal and external events - as moderator and keynote speaker. Had keynote speeches on

various conferences 2-3 times a month.

Major clients: Audi Hungaria manufacturing, BOSCH (multiple entities), Magyar Telekom (affiliate of Deutsche Telekom), IBM Europe,
PwC Hungary & CEE - Director, HR consulting (2010-2013)
Built up the PwC HR consulting business in Hungary - 500K EUR business in 3 years.

Developed a client base of 50+ large clients such as Deutsche Telekom in PwC Hungary, Audi, BOSCH, Dolby, KBC Bank.

Built up a CEE centre of excellence in the HR consulting community on Leadership development and Talent management. Delivered

projects in Russia, Poland, Switzerland, France, Serbia, Czech Republic, Romania, Bulgaria and Austria.
Freelance consultant on management and leadership (2001-2010)
Established a robust and solid client base in Leadership development, Executive coaching and Talent management - worked directly with more than 30 CEOs.
Developed and delivered business in Hungary, Russia, Ukraine, Vietnam, Indonesia, Malaysia and UAE - 50+ clients.
Worked as a permanent in-house consultant for 5 multinational clients in the area of HR Transformation, Talent Management,Leadership development and HR Strategy.
MOL Group - HR Manager of Top Management Business Partner/Leadership&Talent/Performancemanagement (2003-2004; Budapest/Bratislava)
Initiated total HR transformation: Redesigned and implemented performance management, talent management system and trainingand development systems and processes for the whole organisation (16,000 employees).
Total Leadership turnaround project - Developed and implemented a new leadership approach in the TOP 200 manager population.The aim and the end result was to transform leadership from technical focus to strategy and pepole focus.
Implemented a new way of management and leadership communication with introducing, designing and facilitating TOP 50 and TOP200 leadership forums.
Managed all HR-related tasks regarding TOP 20 group leaders (compensation, development, retention, career, succession). Held the most confident HR position in the group.
TMI Hungary - Managing Director (1997-2000)
Increased the total revenue of the company by 30% in 2 years.
Managed the digitalization of the main product-line: the compact time management diaries platform change in Hungary.
Gained high reputation for the Hungarian team within the international group as the most innovative team.
ORGANIZATIONS
AmCham Hungary: Regular presenter on Business Meets Government events, Member of Talent competitiveness committee
 
Association of International Companies in Hungary: Leader of labour and workforce committee
EDUCATION
Master in Business and Economics - Budapest University of Economics (Corvinus University) (1988-1994)
LANGUAGES
English - Full Professional Proficiency
German - Elementary Proficiency
Hungarian - Native or Bilingual Proficiency
---
Why do you think membership in the American Chamber of Commerce is important for businesses operating in Hungary?
Róbert Bencze: The American Chamber of Commerce is a real vivid and impactful organisation of representing the interest of the most significant business entities. This representation is an active and ongoing discussion with the Government, with all major representatives and stakeholders of the Hungarian economic and social society. AmCham is addressing the most relevant challenges from competitiveness to education, from representation to legislative propositions. And does it with an impact. The American Chamber of Commerce can be an example for all business representative associations on how to maintain ever-lasting values. Every member will have a voice to shape the Hungarian competitiveness through AmCham.
What motivates you to be an AmCham Board Member?
RB: After being quite active in committees and in preparation of AmCham forums I would like to be an active member of the Board, providing a strong representation of the human factor of the economy. For many year, most of the company and country-level competitiveness challenges are related to the availability and qualifications of the human capital. As an active consultant on this field, I see a great opportunity to have an impact even through AmCham on the present and future workforce quality. It would be a great honour if I had the opportunity to be in an active leadership role and represent the interest of all members' human capital.
Why do you feel you are qualified? What skills do you bring to the position of Board Member?
RB: I have a solid overview of the Hungarian economic environment, trends and opportunities with great emphasis on the labour and workforce challenges. The expertise on the people and workforce-related challenges of the economy will ensure to address all questions with a multiple angle. On top of the expertise, I bring a huge 'library' of international best practices through my global network, enthusiasm and motivation, keynote speaker and negotiation qualities and a sense of humour that is essential to work together.
How have you been active in AmCham over the course of the last two years?
RB: I have been quite active as facilitator and moderator of the AmCham 'big events', Business Meets Government Summit and Competitive Education Conference. I have been involved in preparing, moderating and monitoring the mentioned events during the last 4 years. I am also an active member of AmCham HR and formerly the Competitive workforce committee and participated in preparation of proposals and summaries for Government discussions. I plan to continue my activities as an active supporter of all HR-related work within the Chamber.