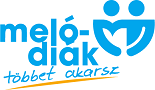 Address
2724 Újlengyel, Kossuth utca utca 138.
MELÓ-DIÁK was founded in 1983, with the goal of supporting university and college students - until now 500 000+ - get regular and organized job opportunities country-wide and it is important that students receive labor market, work related experiences and knowledge during their studies.
MELÓ-DIÁK with its 35 years of professional experience as market leader laid an emphasis on developing students' soft skills that employers will value and will support them to easily integrate to the labor market.